Masoneilan 33000 Series Triple Offset Butterfly Valve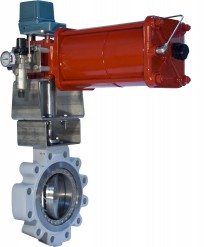 GE's Masoneilan 33000 Series Triple Offset Butterfly Valve incorporates new performance enhancing features providing an exclusive patented range of zero leakage bi-directional triple offset butterfly valves suitable for extreme pressure/temperature applications.
Feature
Self-Centering Disc Due to the innovative design of our square drive, the disc is self-centering within the seat. This eliminates the need for a shaft expansion gap and helps prevent the risk of damage to the disc or seat/seal during actuator installation, transportation of the valve or temperature expansion during high or low intensity applications.

Square Actuation Drive Allows Flexible Actuator Orientation This square shaft drive allows the operator, whether manual or automated, to be positioned in any 90-degree increment of position to provide installation flexibility to clear obstructions or ensure the operator can be placed in the preferred orientation. With the lack of pins or keyways this is easily changeable on site if necessary.

Removal of Keyways or Pins In most butterfly valves, the disc is mechanically operated through the use of pins or keyways along the drive chain. This method has the risk of weakening the shaft and the potential of shearing in high velocity/vibration applications. Through the introduction of a square shaft along the full length of the drive chain GE has eliminated these problematic areas while also reducing the torque requirement to operate the valve.
Industries Served
From application engineering, valve configuration, to performance testing, supply chain management and aftermarket support, we cover any specific industrial needs.